Home

/

November 2023 - Matthew Steedman - Grey Matter
Current Exhibition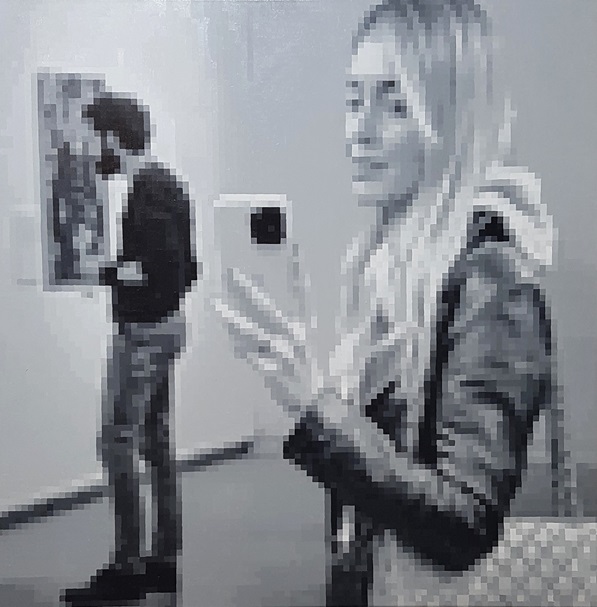 For November 2023, ZIMMERMAN is delighted to present Grey Matter  - seven new pixelated oil paintings by Palmy artist Matthew Steedman. 

Each pixel in these 1000 x 1000 mm greyscale paintings is meticulously painted by hand, one pixel at a time.

Commentary on the artist's exhibition is set out underneath the images below.
Grey Matter is a collection of greyscale pixelated oil paintings that explore the intricacies of perception, memory, and human connection during our rapidly evolving digital age. 

Artist Matthew Steedman draws his source material from both social media and his own photographic archives. 

In some instances a single photograph is used as a starting point; other times elements from multiple images are merged together to create a new composition.  

The process behind the paintings is an intricate dance between the digital and the physical. Matthew uses Photoshop to deconstruct images to pixels and strip them of colour. He then translates these digital templates to canvas by hand, painting one pixel at a time. 

The artist finds painting squares to be a labour intensive process, and an opportunity to enjoy albums, podcasts, and audio books. 

Coffee is referenced in this series as a symbol of social connection, and a ritual that allows for face to face contact. Other subjects include a soft serve ice cream, evoking memories of a different time. 

Central to this series is Art Appreciation, a painting that illustrates the prevalence of technology in our modern lives. 

Matthew Steedman (b. Christchurch, 1976) is a Palmerston North based artist best known for his pixelated oil paintings. He holds a Bachelor of Fine Arts degree from Quay School of the Arts, Whanganui (1999).
"Grey Matter" runs until Sunday 26 November - come take a look!